WordPress can be used to setup e-commerce websites, but how? Easy Digital Downloads is an excellent and free plugin. It allows you to sell digital products like music albums, softwares, plugins, WordPress Themes, e-books etc.

Easy Digital Downloads is one of the most popular and most frequently used eCommerce plugin available for WordPress. The plugin is the easiest way to sell digital products through WordPress.
Commonly known as EDD, Easy Digital Downloads is a speciality plugin for selling digital products. Once activated, the plugin will automatically set up purchase pages, a shopping cart, customizable receipts and full stats dashboard. This full stats dashboard helps you to keep track of your sales.
Features of EDD
Cart system for purchasing multiple downloads at once.
Many payment gateways. PayPal and Manual are included by default. Stripe, PayPal Pro, PayPal Express, and others available as add ons.
Complete payment history.
Multiple files per downloadable product.
User purchase history and ability to redownload files.
In this article we'll show you complete guide on installation and configuration of Easy Digital Downloads that will help you to build your own online digital store.
Basic plugin Installation and configuration
Step1
First you need to install the plugin from WordPress plugin repository. Check our previous WordPress guide to install a WordPress plugin.
Once plugin is installed and activated, you'll see download option in your WordPress Admin Panel.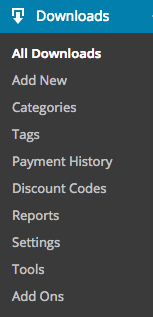 Step 2
Under Downloads there are number of options available which we'll discuss later in this article. You can also see the EDD sales statistics on the WordPress Dashboard like below screenshot: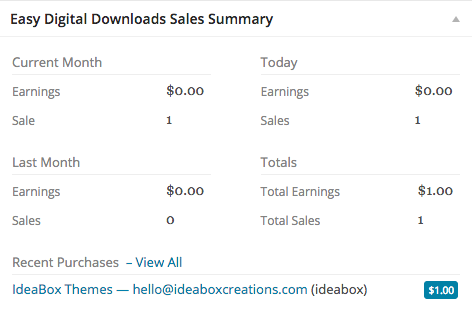 Step 3
Configure the settings of all options available under Downloads like Add new product, Discount Codes, reports and much more.
All Downloads
In this section you'll see a list of all products that you've been added on your online digital store. It will display price, sales earnings, date, category, tags and product shortcodes.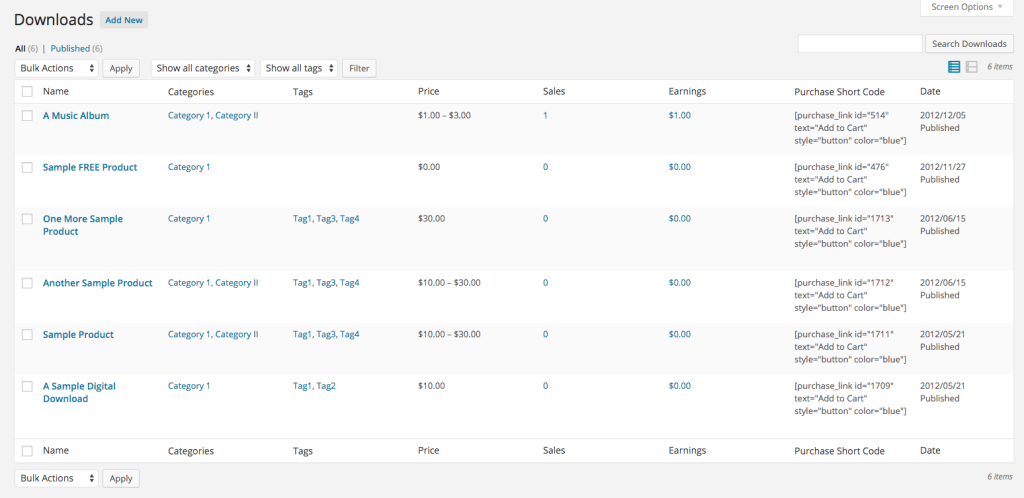 Add New Products
Adding new product in Easy Digital Downloads is same as adding new WordPress post or page. So, it's quite easy for you to understand how to add new products.
Step 1
Click on Downloads >> Add New. This will open the editor where you've to enter the details of the product.
Step 2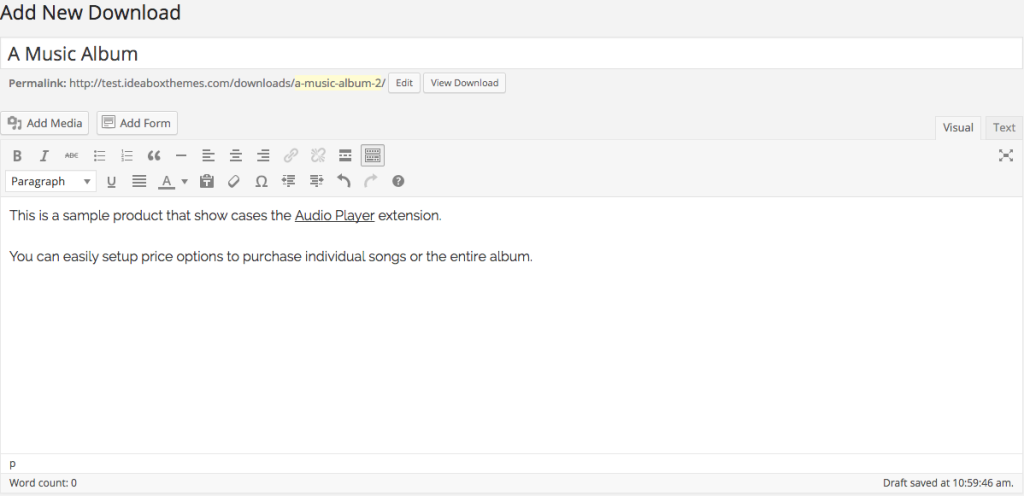 On the Add New Download page, add the title and description of the product just like a WordPress post. If you would like to add image you can add it.
Step 3
Just below the editor you'll see different options where first option is of adding download price. There is one option Enable variable price. Once you enable this option you've to add prices of all products that are grouped under main download.

To add new price of your download, click on Add New Price button.
Step 4
In this section you've to select the Product type. There are two product types available: Default and Bundle. For bundled products you'll mention variable price.

If your download is already uploaded on the website then copy and paste its URL in File Downloads section to make it downloadable for other users. Or you can also upload file from your computer by clicking on Upload a File button.
Step 5
There are some other options where you can add notes or instructions that you would like to add to purchase receipt. You can also add short summary of your product.
Note: If you make any changes in the appearance of the download then they will be reflected wherever the shortcode of the download has been placed.
Your product will look exactly same as below screenshot on your site: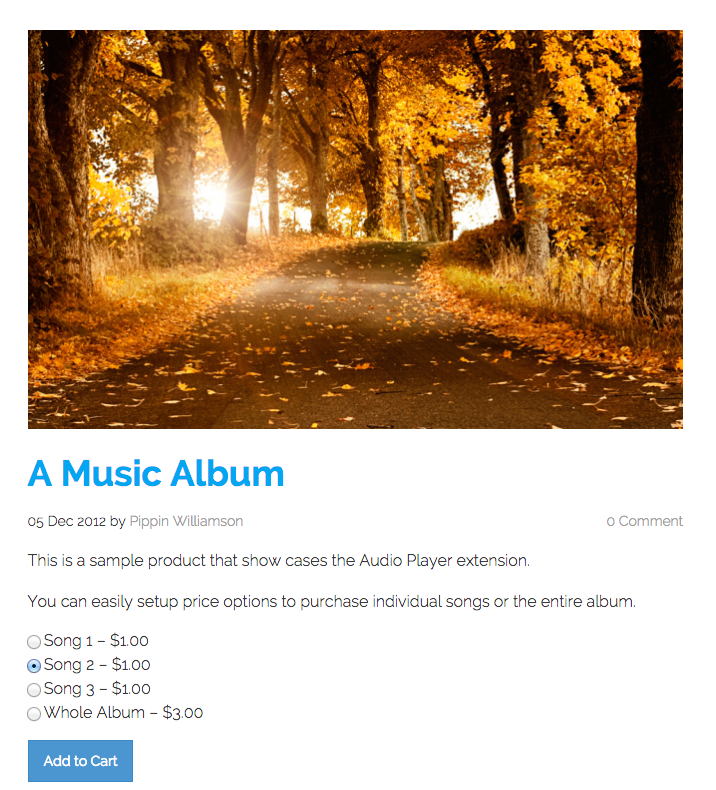 Categories and Tags are similar to the WordPress post. With the help of these categories user will navigate to your products.
Payment History
In this section you'll see the history of each and every purchase. As I discussed earlier you can see the payment history directly from your dashboard. On clicking on Payment History option you'll see the result like below screenshot:

Discount Codes
The plugin allows you to create discount codes for specific product to attract more and more customers on your site. You can either offer flat rate discount or certain percentage of sales price. To add discount code, click on Download >> Discount codes and then click on Add new button.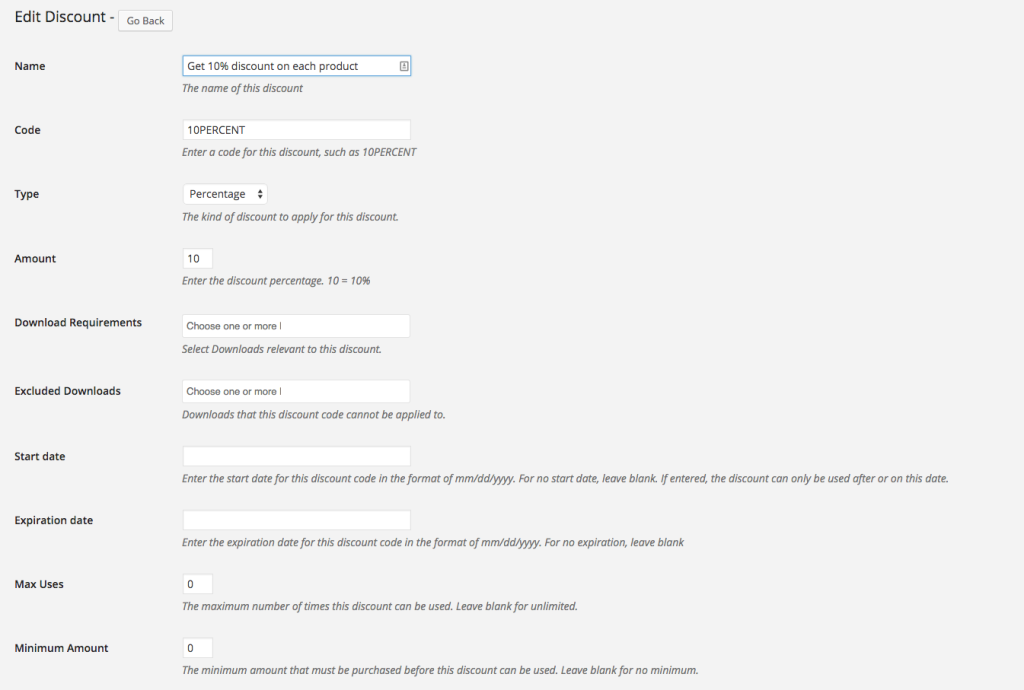 This will take you to the page where you've to enter the details related to your discount code. Enter name, code, type, amount and other things that you want to add in your discount code. You can also create additional conditions for a discount to be valid.
Reports
The plugin offers you complete reporting system which give you complete statistics of product sales, number of buyers, sales account etc. and display sales by comparing them with previous month. 

You can also download Earning and sales stats, payment history, customers and Download history in CSV format. You can also analyze these statistics with some very powerful tools available with this plugin.
Settings
These settings are located in Downloads >> Settings from your WordPress Dashboard.
General
Test Mode: By checking this box your plugin works in Test mode. This means the plugin allows you to perform test purchases without any live transactions.
Checkout Page: Once you activate the plugin, it will automatically create checkout page containing [download_checkout] shortcode. This shortcode is required for the checkout process to work .
Other Settings: In the other settings you can locate the currency symbol, track how the plugin is to be used, set decimal and thousand operator and much more.
Payment Gateways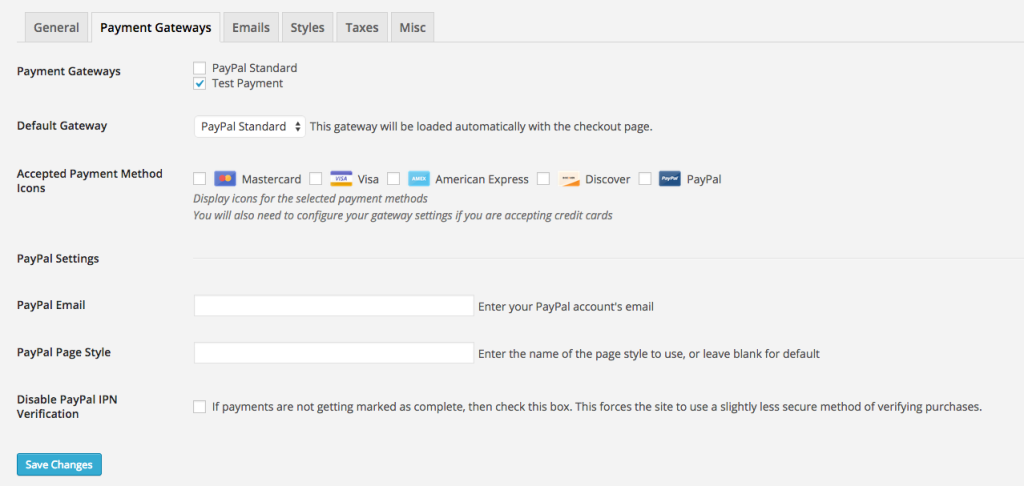 By default EDD plugin includes two payment gateways: PayPal Standard and Manual Payment. You can install paid add-ons and include payment option like Stripe, PayPal pro and others.
Payment Gateway: Each installed gateway can be enabled by clicking the check box next to it's name in the Payment Gateways list.
Default Gateway: This gateway will be loaded automatically with the checkout page.
Accept Payment Method Icons: Display icons on the checkout page for the selected payment methods. You will also need to configure your gateway settings if you are accepting credit cards.
Other PayPal Settings: In these settings you can enter your PayPal account's email, name of the page style to use and more.
Add-ons and Extensions
To add more functionality in the plugin, It offers wide range of extensions and add-ons which can be used with the original plugin. The main reason of the huge success of this plugin is its user and developer friendly nature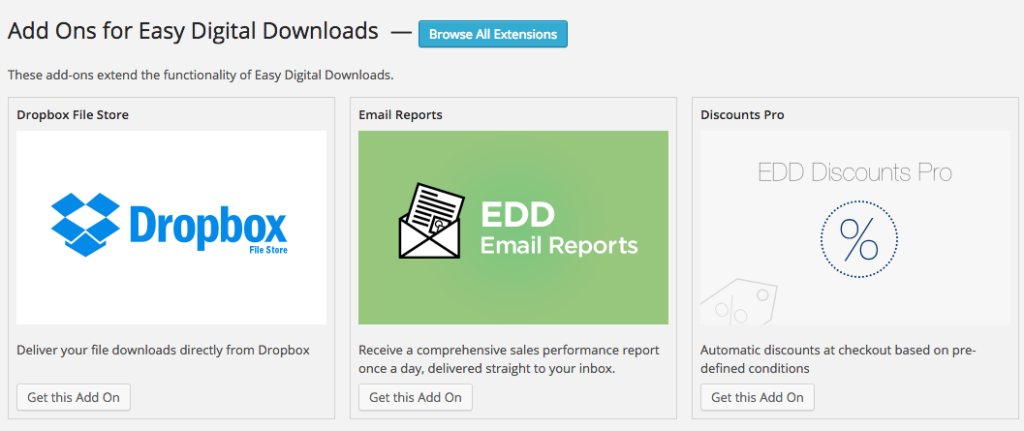 These Add ons include Dropbox file store, Email Reports, Discounts Pro, EDD Xero, Zapier  and much more.
As its name signifies Easy Digital Download, it is very easy to use and set up plugin. The wide range of extensions, add-ons, its easy to use interface and affordable price makes EDD one of the best plugins to sell digital products.