WordPress magazine themes are quite useful for content rich news and review blogs. SplashMag is our recently launched brand new WordPress Magazine theme designed for such blogs. It allows you to present content from various categories in a beautiful style.
SplashMag is completely mobile responsive WordPress Magazine theme loaded with lots of useful features and customization options. These extensive customization options make it easy for you to change the look and feel of the theme.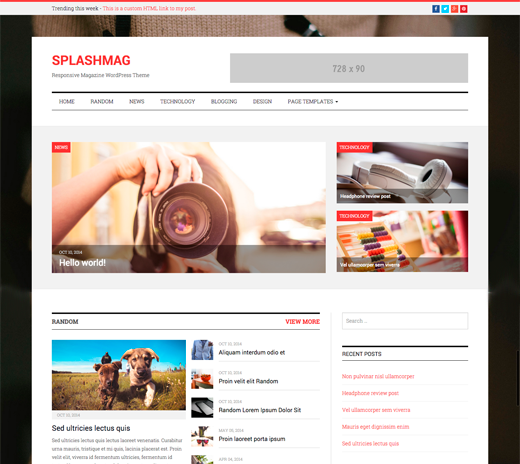 The theme has unique live customization technique through which we have made set up process easy. You can see live preview of each and every option available in the theme.
With the unique live customization feature you can see all the changes made on your website without hitting the refresh button.
The theme lets you to add the featured posts of different categories on the front page of your website. This makes the front page of your website eye-catchy and attractive. This feature increases the front end usability of your website.
Multiple Color Scheme
SplashMag theme offers you unlimited color options. This beautifully designed color scheme feature gives you complete flexibility to select the color according to your website brand. The theme includes a color picker that lets you to select the color and display it on your website in real time.
Theme Layout
This theme offers you two option to change the layout of your website: Boxed and Full width. Boxed layout gives different look to your website. You can easily add any background image or any solid background color and change the appearance of all of your websites you create.
Header Message
SplashMag WordPress Magazine theme lets you add message at the top of your website. You can add any text or HTML tags for the header message. With this option you can display any offer, counter or anything else on your website.
There is an option to add social icons in the same section where you add your header message. These social icons help you link to social profiles easily and quickly.
Ads Support
Easily add ads in the header section, in between blocks, footer and sidebar on the homepage of your website. This beautifully coded feature lets you to monetize your WordPress website with different ad blocks.
Featured Slider and Posts
There is a stylish built in featured slider that can be used to display recent posts or posts from any category that you've created. You can define no. of posts that you want to display in the slider. This features makes your front page more attractive.
In the right sidebar of your website you can select the category and showcase posts of that category in the right sidebar. this section also provides you an option to define number of posts.
Featured Column Blocks
Home page has different featured column blocks like Featured 2 column and Featured 3 column. In these blocks you can showcase recent posts or posts from any category. You can enable/ disable this option as per you need. In featured 2 column, your posts will be displayed in two columns.
In featured 3 column your posts will be displayed in three columns. You can also define number of posts you want to display according to you.
Footer Widgets and Copyright Text
The theme offers you three column Footer widget area where you can display all the important information of your website. You can also write copyright text in the footer section using your business name.
Elementary Features
WooCommerce support.
Custom CSS.
Static Front page option.
Unlimited usage on client and personal site.
Built in social icons.
RTL language support.
Translation Ready
License under GPL V2.